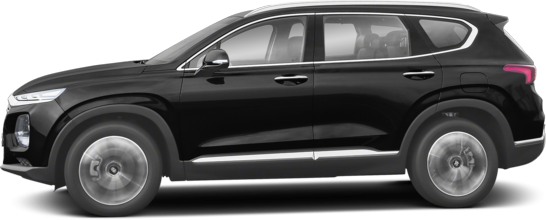 Hyundai Races Forward (Slowly) With an Evolution of the Popular Santa Fe SUV Line in Williamsville
If that title is confusing--well, welcome to the newest generation of the Santa Fe nameplate. But, don't worry. Once you see what Hyundai did, and why they did it, it's a lot easier to make heads and tails of the new Santa Fe crossover, and nod along with the critics who are already pretty impressed with the changes.
The Hyundai Santa Fe you knew and loved in Buffalo or Cheektowaga is still around. It's just gone through a bit of an extreme rebirth--and we're likely to see some more changes coming around when we hit 2020.
A larger, more muscular design for Hyundai's midsize SUV
In all, the new Santa Fe is larger than the outgoing Santa Fe Sport model, though not quite as large as the Santa Fe XL (the new name for the three-row mode), giving it a little bit more breathing room from the smaller Tucson in the lineup, and setting itself up as a more highly competitive midsize rival.
Hyundai pulls out a lot of stops to make the face of the all-new Santa Fe align with the new face of the brand. Its design uses a new "split light" look, which places the ultra-thin LED daytime running lights higher up on the fascia, almost in line with the hood. Under the separated DRL, Hyundai has thoughtfully stacked high/low-beam LED headlights, then a subtle reflector to further improve visibility (for you and for other drivers), and finally petite fog lights at the bottom of the split. This will make night-driving in Williamsville easier and safer.
The grille is quite different from the Santa Fe Sport, utilizing a really cool honeycomb design that surrounds a prominent Hyundai badge, and nicely complements the sharp, angular new look of the headlights. "Aggressive" is a term that's thrown around a lot in automotive design. But, for the newest Santa Fe, with its deep cuts and jutting nose, it's accurate.
Technology and infotainment
Hyundai definitely made tech a priority in the new Santa Fe. You'll get a standard 7.0-inch infotainment screen, mounted higher up on the dashboard than most of its competitors, above the air vents and the HVAC controls, to let you see information in a more direct line of sight. This crisp display runs Hyundai's latest version of its intuitive and easy-to-use infotainment system, which offers standard integration with compatible smartphones through Apple CarPlay™ and Android Auto™.
An optional 8.0-inch screen is available on upper-level trims, and pairs with Hyundai's AVN 5.0 Navigation for drivers who prefer a solid, real GPS system over the oftentimes-finicky maps application on their phone. Additional tech and infotainment options include Qi wireless device charging (again, for compatible devices--you need to buy the fancy docks and such), dual front and rear USB charge ports so that every surly teenager in West Seneca or unruly carpool coworker in Kenmore, NY can be satisfied with the new 2019 Hyundai Santa Fe, and an available 8.5-inch head-up display that puts your need-to-know info front and center.
Want to know more about the 2019 Santa Fe in Williamsville? Contact Transitowne Hyundai to learn more; explore inventory to compare trim levels like the Santa Fe SE, SEL, SEL Plus, Limited, and Ultimate; and to better understand the differences between the Santa Fe Sport, Santa Fe, and Santa Fe XL so you can make the best choice for your lifestyle.